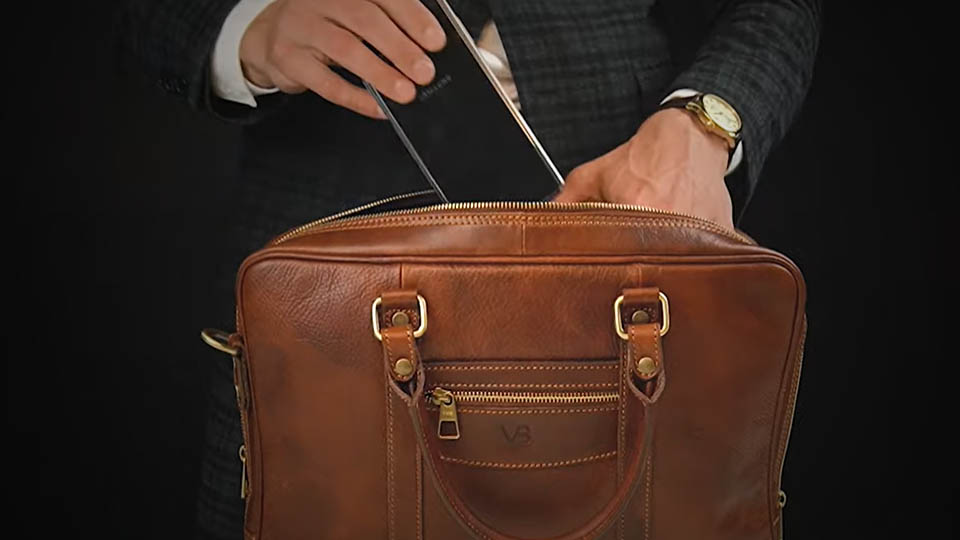 Tech gadgets like laptops and smartphones have become indispensable companions for modern travelers. Whether staying connected with loved ones, accessing entertainment on long flights, or even working remotely, these devices have transformed how we travel.
However, the fragility of these gadgets calls for a reliable bag that can offer the necessary protection to withstand travel challenges. The right bag becomes an essential accessory for travelers, ensuring the safety and longevity of their tech gadgets throughout their journeys.
By carefully selecting a suitable bag, travelers can rest easy knowing that their beloved devices are shielded from the rigors of the road, allowing them to focus on their travel experiences without any worries.
Choosing The Right Bag
When choosing a bag, don't forget it's not just about style. There's more to consider. Think about durability, functionality, and protection. These factors will ensure the bag can protect your tech devices from potential damage.
1. Materials Matter
When embarking on the quest for the perfect bag, it's crucial to remember that style alone won't suffice. Look beyond aesthetics and prioritize durability, functionality, and protection. By carefully considering these factors, you can select a bag that complements your style and guarantees the utmost safety and security for your valuable tech devices, shielding them from any potential damage that may occur during your travels.
2. Size And Fit
When choosing the right bag, size and fit are of utmost importance. Opt for a bag that securely and snugly accommodates your laptop or smartphone. If the bag is too large, your device may shift and suffer potential damage. Conversely, a too small bag may not close properly, leaving your device vulnerable to falling out and sustaining harm. Striking the right balance ensures optimal protection for your tech gadgets during your travels.
Must-Have Bags For Laptops
When it comes to laptops, protection and comfort are key. Here are some bags that tick all the right boxes.
1. CITY Leather Laptop Bag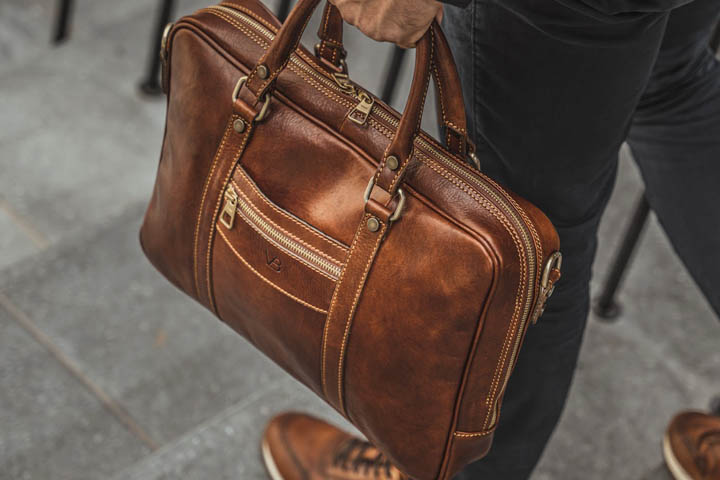 CITY Leather Laptop Bag
Von Baer design a laptop bag called "CITY", which is a modern take on a traditional leather briefcase, offering a bag that's ideal for a businessmen or working professional. It includes a dedicated laptop compartment for up to 15.6 inches (but there's a 17-inch available too), and it has both top handles and a detachable shoulder strap. The leather is high quality, full grain leather made in Italy.
2. The High-Tech Backpack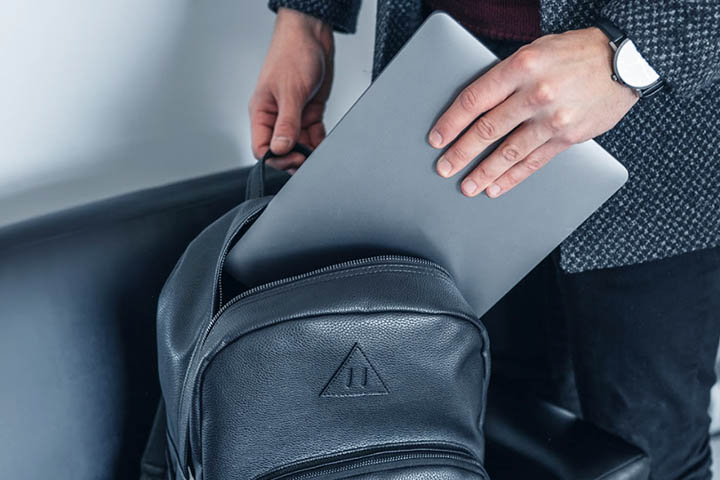 High-tech backpacks are the perfect companion for travelers seeking both comfort and protection. These backpacks feature a dedicated and padded laptop compartment, ensuring the safety of your device during transportation. Additionally, they offer multiple pockets designed specifically to accommodate your tech accessories, keeping them organized and easily accessible. With weight evenly distributed across both shoulders, high-tech backpacks are ideal for long trips or daily commutes.
3. The Professional Briefcase
Professional briefcases have a professional and sophisticated appearance, making them an ideal choice for frequent business travelers. Compact in size, they offer ample padding for your laptop to keep it safe and make it easy to transport. Some models even come with a removable shoulder strap that provides added flexibility and makes it easy to carry. Whether on a short commute or traveling for business, a professional briefcase is a must-have accessory that enables you to stay organized and prepared on the go.
Must-Have Bags For Smartphones
Smartphones require a different type of protection. They are smaller and more prone to theft. Here are a few bags designed to keep smartphones safe and secure.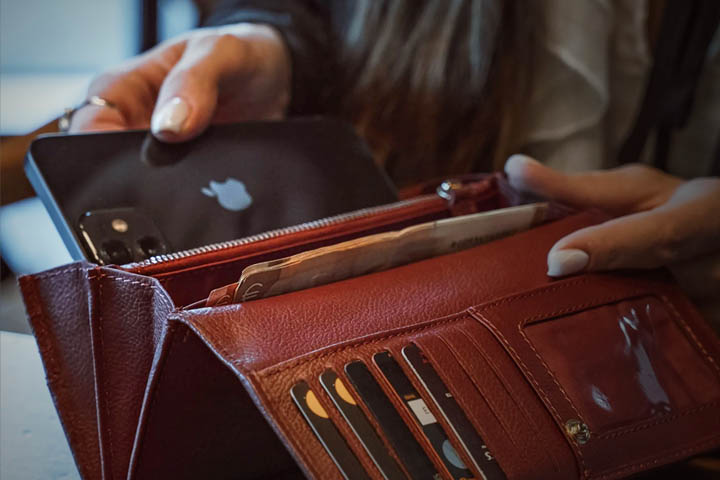 W1 leather purse
1. The Secure Crossbody Bag
A secure crossbody bag provides exceptional security features for peace of mind. Featuring lockable zippers and slash-resistant materials, these bags ensure the safety of your belongings. They also come with a dedicated and padded smartphone pocket that protects your phone. Wearing it across the body lets you keep your phone close and secure during your travels, making it an essential accessory for those prioritizing style and security.
2. The Convenient Belt Bag
Belt bags, also known as fanny packs, have grown in popularity. Updated with modern features, these convenient bags now offer tech-friendly options. Some belt bags include a padded and fleece-lined pocket designed to protect smartphones. With this accessible and protective feature, you can keep your phone secure while enjoying the convenience and style of a belt bag.
Conclusion
Choosing the right bag for laptops and smartphones is crucial for ensuring the safety and convenience of your valuable devices. When considering a bag, it's essential to look for features such as padded compartments to protect laptops from impact and scratches, ensuring a snug fit. Additionally, the bag should offer sufficient space for your smartphone, with dedicated pockets to keep it easily accessible yet secure. Ergonomic design, adjustable straps, and comfortable padding will enhance the overall carrying experience, especially during long commutes or travels. Prioritizing functionality, style, and the right size will ensure you find the perfect bag to protect and transport your laptops and smartphones conveniently and safely.
When traveling with tech, choosing the right bag is vital. The best bags provide protection, functionality, and style. They secure your laptops and smartphones while complementing your travel aesthetic. So, remember to invest in quality, think about the fit, and consider your travel needs before choosing. You'll find that the right bag can make all the difference in your tech-travel experience.